World
Jones: Oklahoma governor spares death row inmate on last-minute conditional sentence – Times of India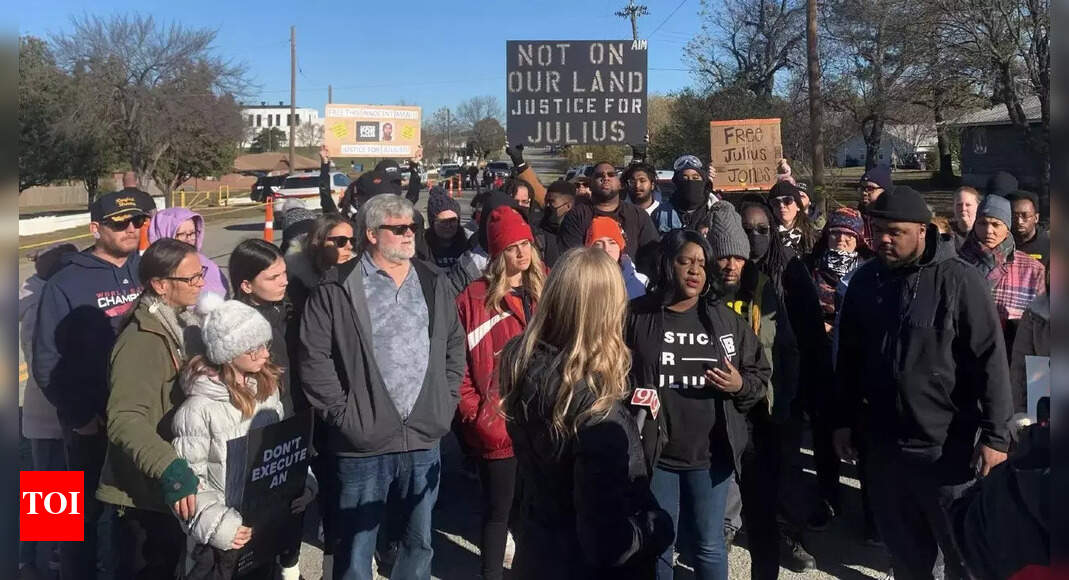 Oklahoma Governor Kevin
Stitt
Thursday ended the high-profile execution of death row inmate Julius
Jones
, hours before he was due to die for a murder that occurred at the age of 22, in which doubts about his guilt were raised.
The governor's eleventh-hour reprieve followed a recommendation for leniency from the Oklahoma Pardons and Parole Board, which voted 3-1 on Nov. 1 that Jones's sentence should be commuted to life in prison.
"After prayerfully considering and reviewing documents presented by all parties to this case, I have decided to commute Julius Jones' sentence to life imprisonment without the possibility of parole," Stitt said in a statement.
The switch was filed just over four hours before Jones died from a lethal injection of a three-drug cocktail that his lawyers had called inhuman in a separate last-minute appeal.
Jones, 41, was convicted of shooting and killing an insurance executive
Paul Howell
during a hijacking in 1999 in his driveway.
But his lawyers cited evidence that he was at home with his family when the murder took place, which they said the jury never heard because his lawyers at the time failed to investigate. thoroughly.
The case, which has attracted great interest from celebrities, including
Kim Kardashian West
, and anti-death penalty activists, have launched several protests and vigils across the state in the past two days.
A crowd outside McAlester State Penitentiary where Jones was to be put to death erupted in joy after learning of the governor's decision. Supporters chanted Jones's name, hugged and wiped away tears, a video posted on Twitter showed.
Amanda Bass, attorney for Jones, said she regretted the governor did not pass the board's recommendation to grant Jones the possibility of parole, but was grateful that Stitt did not allowed "an irreparable error" to occur.
"Governor Stitt took an important step today to restore public confidence in the criminal justice system by ensuring Oklahoma does not execute an innocent man," she said in a statement .
Jones was among five sentenced inmates who were granted stays of execution by a three-judge panel of the U.S. 10th Circuit Court of Appeals on October 27.
But the U.S. Supreme Court lifted the suspensions the next day, allowing the state to resume executions for the first time since 2015 by putting John Grant, another of the five inmates, to death hours later by lethal injection. .
Witnesses said Grant had seizures and vomited before he died, while the state Department of Corrections said there were no complications.
Grant had been a plaintiff in a lawsuit to go to trial next year challenging the three-drug protocol that ended his life as inhuman, but the state refused to postpone his execution.